This Is Serious—It's Time to Support and Value Social Media Managers
Join us for a special event webinar hosted by STREAM, by Campus Sonar and featuring Tony Dobies and Rickie Huffman from West Virginia University to explore recent data on social media manager health in higher ed and how we can take steps to better support this critical role on campus.
About the Event
Higher ed social media managers have played a crucial role during the COVID-19 pandemic. But that work has done significant damage to their mental health and day-to-day lives. It's critical that we start taking care of these experts on our campuses.
This presentation unveils survey results from West Virginia University's 2021 higher ed social media manager mental health survey. As part of this presentation, we'll provide detailed results on how the COVID-19 pandemic has affected social media managers.
Results show that mental health is poorer now compared to data from early on in the pandemic and, despite institutions relying on these individuals in a much bigger way in 2020, they feel more undervalued and underappreciated than ever before.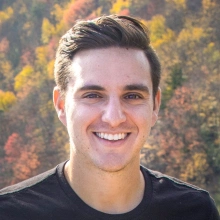 Tony Dobies
Senior Director of Marketing
As the Senior Director of Marketing at West Virginia University, Tony Dobies has positioned the University as a leader in creative marketing and social media. He is a vocal advocate for new and innovative approaches to marketing in higher education and has spoken at numerous national conferences on the importance of social media in marketing and communications.
At WVU, he leads a team of talented social media managers, market researchers, advertisers, marketing strategists, brand, and trademark licensing experts. Together with his team, he designs and manages marketing projects and initiatives to help reach the University's highest goals, especially in regard to recruitment. In 2015, he was named a "30 under 30 Rising PR Star" by PR News. He graduated from WVU in 2009 with a bachelor's degree in journalism and again in 2017 with a master's degree in integrated marketing communications.
Rickie Huffman
Marketing Strategist
Rickie Rose Huffman is a Senior Marketing Specialist at West Virginia University. She oversees social media and marketing for the Office of Admissions and the Mountaineer Parents Club, along with being the lead social media advertisement strategist. One of Rickie's many passions is higher education and introducing students and families to the college going process and culture. In her free time, she enjoys writing, reading, and binge watching TikToks.