Prioritized and Strategic Social Listening
At Campus Sonar, we identify your high-priority needs—and our high-qualified analysts build custom queries and analyze online conversation data to deliver actionable insights. Our strategic insights support multiple areas on campus, such as reputation management, brand benchmarking, enrollment services, and market research. Make a strategic investment for your institution and let Campus Sonar help you ignite your campus strategy.
Online = Real Life. New Research Benchmarks the Online Conversation about College Campuses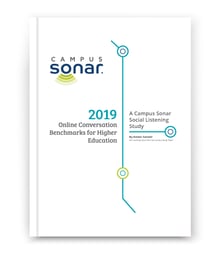 Dr. Liz Gross shared the research and top trends in higher ed social listening that you can use to create actionable outcomes that directly relate to your institution's strategic goals. If you missed Liz's session, you can still download the report. It provides you with data to define your online conversation, conversation volume, and branded content based on comparable schools. The data analysis assessed 52 metrics, including: the amount of conversation, whether it was positive, negative, or neutral, or focused on athletics, prospective students, or alumni−across a sample of 64 representative schools throughout the U.S.
The Higher Ed Social Listening Handbook
If you're new to social listening in higher education—or even if you've done some conversation analysis—you'll find tips and information that you can immediately put to use. The Higher Ed Social Listening Handbook is your go-to resource for everything related to social listening in higher education.
Join the fun! See who's reading
The Higher Ed Social Listening Handbook
lately: